Boosting mood during postpartum (birth to 12 months)
The weekly physical activity recommendation after delivery is designed for people who have had an uncomplicated delivery over the past twelve months.
The recommendation emphasises that any kind of regular physical activity boosts the well-being of the mother and the baby, and that it is important to adapt your physical activity to your resources. The recommendation also pays attention to restorative sleep as it has a central role in having the energy to be physically active, including caring for the baby.
In addition, the physical activity recommendation covers the topics of physical activity and breastfeeding, pelvic floor muscle training and return to running and exercising.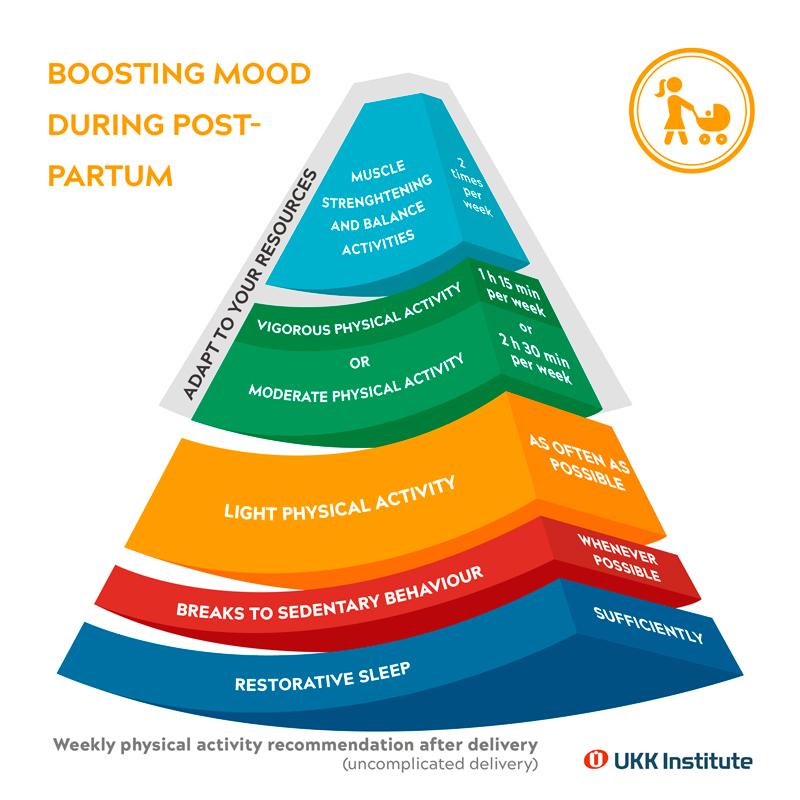 Materials on physical activity recommendation after delivery
Regular physical activity after delivery
improves physical fitness and increases energy
boosts mood and supports mental well-being
helps to return to pre-pregnancy weight.
Utilise everyday opportunities to be physically active
Restorative sleep
sufficiently
During sleep, your brain structures your thoughts and helps you to recover from daily stress.
Learn to recognise the amount of sleep that you need and try to match your sleeping habits with your baby's sleep pattern.
Breaks to sedentary behaviour
whenever possible
Breaks improve blood circulation, activate muscles and reduce strain on your body.
Set yourself screen time limits and decide which TV programmes you wish to watch.
Light physical activity
as often as possible
Every step counts. Utilise housework, shopping trips, outdoor exercise with your family and other everyday activities.
Remember to also rest during the day.
How much physical activity is good for you?
Even short bouts of physical activity count.
Moderate physical activity
at least 2 h 30 min per week
All activity that increases your heart rate counts.
Physical activity is moderate if you are able to talk despite shortness of breath.
OR
Vigorous physical activity
at least 1 h 15 min per week
You will achieve the same health benefits in a shorter time when you increase the intensity of your activity.
Physical activity is vigorous if talking is difficult due to shortness of breath.
Muscle strengthening and balance activities
at least twice a week
Use your muscles and challenge your balance more than normally.
Choose your way, e.g. weight training, stair climbing, group exercise.
When can you start physical activity?
Recovering from delivery is different for each individual – you can start light physical activity as soon as you feel ready to do so.
Listen to your body and gradually increase the amount and intensity of physical activity.
If you are uncertain, do not hesitate to consult your nurse or doctor.
What kind of physical activity is suitable?
Start pelvic floor muscle training right after delivery – it prevents possible urinary incontinence.
Further advice is provided by e.g. your maternity care and the physiotherapist of your local health centre. Instructions on pelvic floor muscle exercises are available in Finnish at www.kaypahoito.fi.
Choose activities that you find safe and familiar, e.g. workout sessions with your baby or pram walking.
In the beginning, avoid physical activities that include intense jumps or rapid changes of direction, because your ligaments might have loosened due to hormonal changes.
You may return to running 3 months after delivery at the earliest. Before graded return you should not have any symptoms of pelvic floor weakness in everyday activities or running attempts.
Physical activity and breastfeeding
Drink enough fluids during physical activity.
Physical activity of moderate intensity does not affect the quantity or quality of breast milk, the ability to breastfeed or the baby's growth.
The best time for breastfeeding is before physical activity – the breasts become lighter and physical activity is more comfortable.
By being physically active you support both your own and your baby's well-being.
Sources
2018 Physical Activity Guidelines Advisory Committee. 2018 Physical Activity Guidelines Advisory Committee Scientific Report. Washington, DC: U.S. Department of Health and Human Services, 2018.
Bø K, Artal R, Bakarat R ym. Exercise and pregnancy in recreational and elite athletes: 2016/2017 evidence summary from the IOC expert group meeting, Lausanne. Part 5. Recommendations for health professionals and active women. Br J Sports Med 2018;52:1080-1085.
DiPietro L, Evenson KR, Bloodgood B ym. Benefits of physical activity during pregnancy and postpartum: An umbrella review. Med Sci Sports Exerc 2019;51:1292-1302.
Duodecim Terveyskirjasto. Raskaus ja liikunta. Lääkärikirja Duodecim 28.9.2020, www.terveyskirjasto.fi
Donnelly GM, Rankin A, Mills H ym. Infographic. Guidance for medical, health and fitness professionals to support women in returning to running postnatally. Br J Sports Med 2020;54:114-115.
Luoto R. Liikuntasuositukset raskauden aikana. Duodecim 2019;135(21):2079-2084.
Meah VL, Davies GA, Davenport MH. Why can't I exercise during pregnancy? Time to revisit medical ´absolute´ and ´relative´contraindications: systematic review of evidence of harm and a call to action. Br J Sports Med 2020;54:1395-1404.
Mottola MF, Davenport MH, Ruchat S-M ym. 2019 Canadian guideline for physical activity throughout pregnancy. Br J Sports Med 2018;52:1339-1346.
Mottola MF, Nagpal TS, Bgeginski R ym. Is supine exercise associated with adverse maternal and fetal outcomes? A systematic review. Br J Sports Med 2019;53:82-89.
The American College of Obstetricians and Gynecologists (ACOG). Physical activity and exercise during pregnancy and the postpartum period. ACOG Committee Opinion No. 804. Obstetrics & Gynecology 2020;135:e178–188.
Last updated: 8.11.2023