Feeling good during pregnancy – listen to your body
The recommendation on physical activity during pregnancy is designed for people with uncomplicated pregnancy.
Listening to your body and adjusting physical activity accordingly is the key message in the physical activity recommendation during pregnancy. The recommendation emphasises that any kind of regular physical activity is good for the expectant mother and that physical activity is not harmful to the baby.
Strenuous physical activity is not included in the recommendation – moderate and light physical activity suffice during pregnancy. Yet, if you have been physically active before pregnancy, it is not necessary to abstain from all strenuous activities. However, the forms of physical activity that risk hits or falling need to be avoided. Breaks to sedentary behaviour and sufficient amount of restorative sleep are equally important.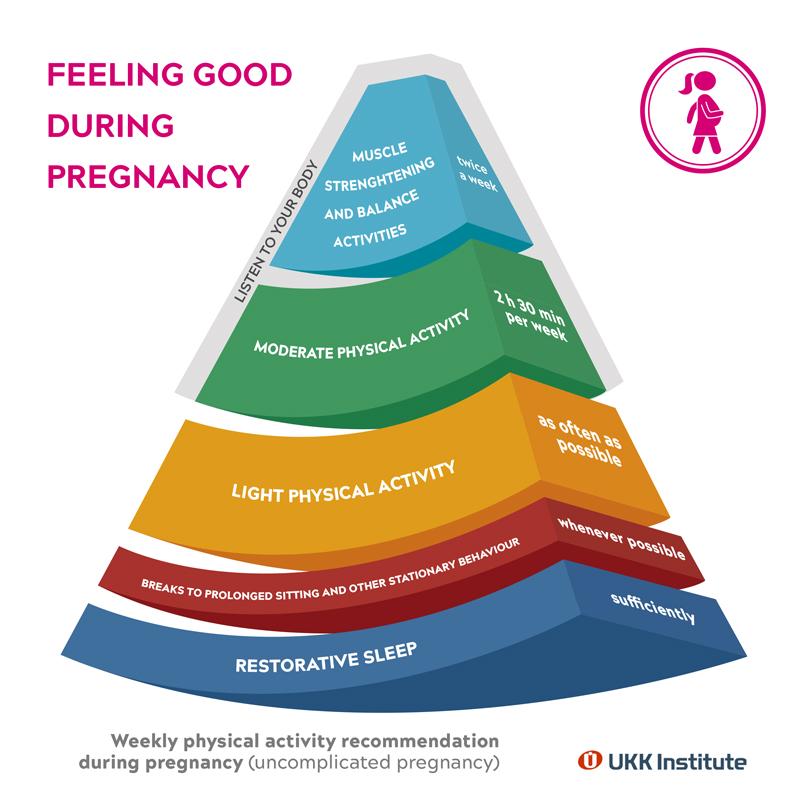 Materials on physical activity recommendation during pregnancy
Regular physical activity
improves physical fitness and helps to manage pregnancy-induced physical strain
speeds up the recovery after delivery
affects positively to your mood
helps to prevent excessive gestational weight gain and decreases the risk of gestational diabetes.
Physical activity is not harmful to the baby.
Utilise everyday opportunities to be physically active
Light physical activity
as often as possible
Every step counts.
Utilise household chores, shopping trips, outdoor activities with your family and other daily activities.
Breaks to prolonged sitting and other stationary behaviour
whenever possible
Breaks improve blood circulation, activate muscles and reduce strain on your body.
Stand up while answering your phone, set automatic reminders for breaks, and disengage from screen entertainment and social media every now and then
Restorative sleep
sufficiently
During sleep, your brain structures your thoughts and helps you to recover from daily stress.
Learn to recognise the amount of sleep that you need and aim to sleep accordingly.
How much physical activity is good for you?
Moderate physical activity
at least 2 h 30 min per week
Spread physical activity to at least three days a week.
Physical activity is moderate if you are able to talk despite shortness of breath.
Muscle strengthening and balance activities
at least twice a week
The more diversity in your physical activity, the better.
Suitable physical activity is e.g. gym training, gymnastics exercise, dancing and yardwork.
If you have not been physically active before pregnancy
Start with short and light sessions; regularity and total amount of physical activity are more important than duration and intensity.
Increase the duration, intensity and number of sessions gradually.
If you have been physically active before pregnancy
You can continue with light and moderate physical activity as before, but listen to your body and ease the training accordingly.
Consult your physician about continuing with physical activity that markedly exceeds the amount and intensity of the general recommendation (goal-oriented vigorous physical activity, competitive sports).
Remember
to drink during physical activity — it helps to regulate sweating and body temperature
to warm up and cool down.
Avoid
a prolonged supine position if it makes you feel unwell
abdominal strengthening exercises if you suspect separation of abdominal muscles (diastasis recti). In that case, ask your maternity clinic for further instructions.
activities that include physical contacts, a risk of falling or rapid changes of directions (e.g. many ball games and contact sports, ice hockey, downhill skiing and horseback riding)
physical activity in hot and humid conditions and at high altitudes with reduced levels of oxygen
scuba diving.
Stop physical activity and contact maternity care if you get any of the following symptoms
severe shortness of breath at rest
chest pain
regular and painful contractions
vaginal bleeding
severe headache
dizziness that does not resolve on rest
calf swelling and pain.
Contact your maternity care about continuing with physical activity also in case you have any other problems or symptoms.
Move your way. Every day.
Sources
2018 Physical Activity Guidelines Advisory Committee. 2018 Physical Activity Guidelines Advisory Committee Scientific Report. Washington, DC: U.S. Department of Health and Human Services, 2018.
Bø K, Artal R, Bakarat R ym. Exercise and pregnancy in recreational and elite athletes: 2016/2017 evidence summary from the IOC expert group meeting, Lausanne. Part 5. Recommendations for health professionals and active women. Br J Sports Med 2018;52:1080-1085.
DiPietro L, Evenson KR, Bloodgood B ym. Benefits of physical activity during pregnancy and postpartum: An umbrella review. Med Sci Sports Exerc 2019;51:1292-1302.
Duodecim Terveyskirjasto. Raskaus ja liikunta. Lääkärikirja Duodecim 28.9.2020, www.terveyskirjasto.fi
Donnelly GM, Rankin A, Mills H ym. Infographic. Guidance for medical, health and fitness professionals to support women in returning to running postnatally. Br J Sports Med 2020;54:114-115.
Luoto R. Liikuntasuositukset raskauden aikana. Duodecim 2019;135(21):2079-2084.
Meah VL, Davies GA, Davenport MH. Why can't I exercise during pregnancy? Time to revisit medical ´absolute´ and ´relative´contraindications: systematic review of evidence of harm and a call to action. Br J Sports Med 2020;54:1395-1404.
Mottola MF, Davenport MH, Ruchat S-M ym. 2019 Canadian guideline for physical activity throughout pregnancy. Br J Sports Med 2018;52:1339-1346.
Mottola MF, Nagpal TS, Bgeginski R ym. Is supine exercise associated with adverse maternal and fetal outcomes? A systematic review. Br J Sports Med 2019;53:82-89.
The American College of Obstetricians and Gynecologists (ACOG). Physical activity and exercise during pregnancy and the postpartum period. ACOG Committee Opinion No. 804. Obstetrics & Gynecology 2020;135:e178–188.
Last updated: 8.11.2023